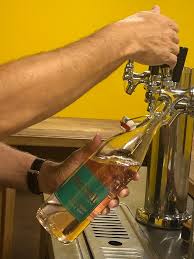 Welcome to Exploring the Wine Glass podcast sponsored by Dracaena Wines. Today's episode is an Allure of the Pour. On these types of episodes, I sit down with one person in the wine industry, share a glass and discuss the how, where, what and why they fell in love with wine. Today on The Allure of the Pour, I sit down with Steve Burch of Acheson Wine in Sacramento.
I was drawn to his story after he was a guest on Wining Hour Chat, a wine chat that takes place every Tuesday at 9pm ET.  His "leave as little carbon footprint as possible" winery is definitely one that I will visit when I am in the area next. Plus there was a little surprise of podcasts from the past converging. You'll have to listen to find out more!
Follow Acheson on all the socials and check out their website.
If you like what you hear, please give us a 5 star review, and tell us what you love about the podcast. Each review helps others find us! We truly do appreciate your support.
Please follow me on Instagram, Twitter, and Facebook. Don't forget to follow the Exploring the Wine Glass blog and remember you can also find the video version of this podcast as well as other interviews on Dracaena Wines' YouTube channel. Finally, if you are interested in wine pairings, follow my other blog, Wine Pairing with Dracaena Wines. And don't forget about my FREE wine education series, Winephabet Street.
~Slainte
Please Visit our Sponsors:
Dracaena Wines - Our Wines + Your Moments + Great Memories Use code 'Explore' at checkout to receive 10% off your first order
CraftBeerClub.com-Monthly Selections of Flavorful, High-Quality Beers Delivered to You! Click here!
Nom Nom Now! Get $60 Off 3 Orders!
Make Your Dinners Easy & Healthy with The Dinner Daily! Membership starts at $4 per month!
Professional grade pet supplies!