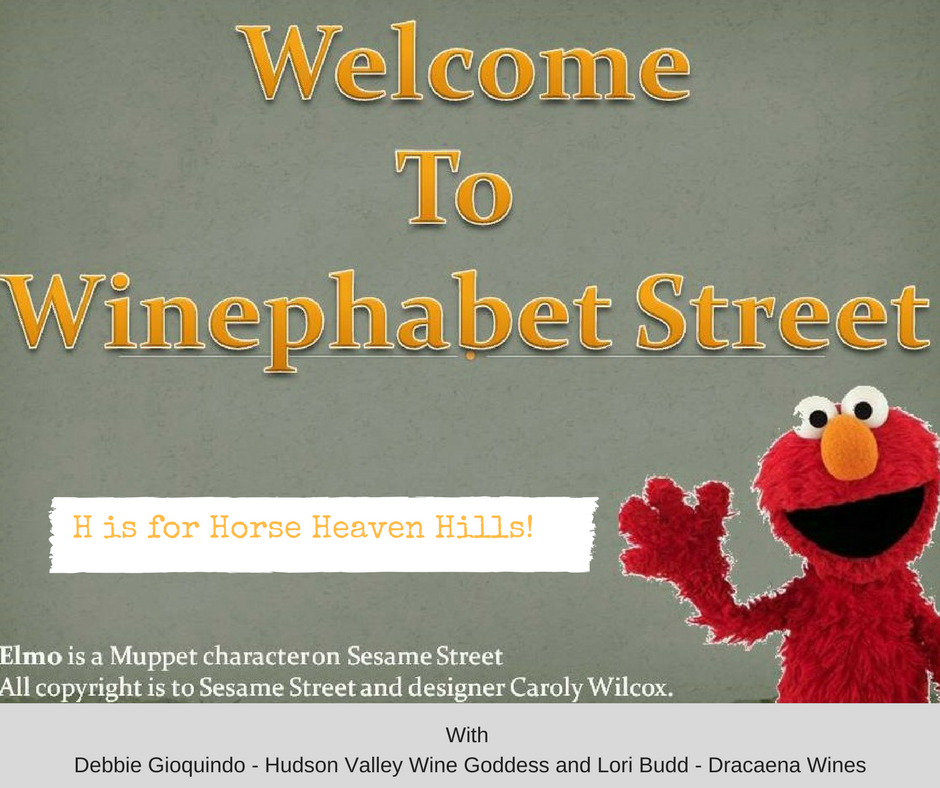 When we are looking to find some new and exciting wines we look to our new sponsor Winc! Spelled W-I-N-C.  Winc makes it easy to discover great wine.
It doesn't get much easier. Winc has experts that know how to match your taste preferences with their wines and they ship it right to your door is included as long as you purchase 4 bottles or more!
Head to TryWinc.com/Winephabet to get $20 off your first shipment! 
Welcome to Winephabet Street! 
Is it before January 29th? Can you please take a moment to vote for my wine blog? I am one of three finalists in the Millesima Blog Awards and the post with the most votes wins a trip to Bordeaux! 
CLICK TO VOTE FOR DRACAENA WINES 
Thank you! 
Now onto Horse Heaven Hills
 Horse Heaven Hills is a 570,000-acre stretch of land located in South Central Washington state along the Columbia River. First established in 2005, the Horse Heaven Hills AVA is part of the larger Columbia Valley AVA. Surrounded by the Yakima Valley AVA on the north and the Columbia River on the south, HHH has elevations that range from 200 feet above sea level in the south to 1,800 feet above sea level at the northern boundary. 
If you are a historical buff, you will be familiar with this area as it was described by Lewis and Clark in their journal from October 1805. "In every direction from the junction of those rivers the Country is one Continued plain low and rises from the water gradually, except a range of high Country which runs from S. W & N E and is on the opposite Side about 2 miles distant from the Columbia and keeping its direction S W until it joins a S W. range of mountains." In fact, their campsite was at the junction of the Snake River and the Columbia River which is now the location of Washington's Sacajawea State Park.
The name, Horse Heaven Hills, was given thanks to James Gordon Kenny in 1867  who proclaimed, "This is surely a horse heaven" and termed the phrase, Horse Heaven Hills. Throughout the years, wild horses roamed the area. In the 1920s with the hard times, many people decided to release the horses in to the wild, rather than continue to pay the upkeep. As more people moved into the area, the wild horses began to be seen as pests and in 1939 Time magazine reported one company in Portland was said to have killed 350,000 horses in the area, and shipped the meat overseas. But their numbers still remained. During the 1960s, the government gave the order to get rid of them and in less than three decades, they were gone.
Our next episode of Winephabet Street will air on Monday, February 19th at 8pm EST. You can sign up for a reminder here. The letter of the day will be I and it stands for Itata.
If you like what you hear, please give us a 5 star review, so that others can find us! We appreciate your support.
Our Wines + Your Moments = Great Memories
Join our wine club. The Chalk Club 3 bottles of Dracaena Wines 2x per year. Choose between all red or red and rose'. 
Thoughts or comments? Contact Lori at dracaenawines@gmail.com.
Please like our Facebook page at www.facebook.com/dracaenawines
Find us on Twitter, Instagram , Pinterest, Google + and Snapchat (@dracaenawines)
Want to watch some pretty cool livestream events and wine related videos. Subscribe to our YouTube Channel.
Find out more about us and our award winning Paso Robles wines on our website.
Looking for some interesting recipes and wine pairings? Then head over to our wine pairing website.
Thanks for listening and remember to always PURSUE YOUR PASSION!
Please support us by finding out more about our sponsors:
~Slainte!