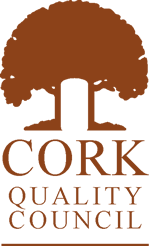 Today is a Dracaena Wines on Wine installment and I am honored to have interviewed Peter Weber, President of the Cork Quality council.
The Cork Quality Council is a nonprofit organization founded to promote education and improve quality assurance performance for the wine and cork industries. We discuss the biology behind a cork tree, how cork is produced and that nasty little thing we all are familiar with, cork taint.  Through this council, research has been performed to help improve the quality of cork. 
On their website, www.corkqc.com, you can find out more about sustainability, the cork forests, cork harvesting and production and wine aging. 
According to 100% Cork, "While the relationship between wine and cork is rooted in centuries of tradition, and the romance and rituals that have evolved around opening a bottle of wine are treasured by wine lovers everywhere, winemakers are above all about making great tasting wines, and the simple fact is, and the simple fact is, cork makes wine taste better.
Our Wines + Your Moments = Great Memories
Join our wine club. The Chalk Club 3 bottles of Dracaena Wines 2x per year. Choose between all red or red and rose'. 
Thoughts or comments? Contact Lori at dracaenawines@gmail.com.
Please like our Facebook page at www.facebook.com/dracaenawines
Find us on Twitter, Instagram , Pinterest, Google + and Snapchat (@dracaenawines)
Want to watch some pretty cool livestream events and wine related videos. Subscribe to our YouTube Channel.
Find out more about us and our award winning Paso Robles wines on our website.
Looking for some interesting recipes and wine pairings? Then head over to our wine pairing website.
Thanks for listening and remember to always PURSUE YOUR PASSION!